One of the biggest crypto exchange hacks in history happened in August 2016 when 119,754 Bitcoin was stolen from Hong Kong-based crypto exchange, Bitfinex. The tokens were worth over $60 million in 2016, or a staggering approximate $5.2 billion at current prices. 
Department of Justice Recovers $3.6 Billion
On Tuesday, February 8th, the U.S. Department of Justice announced that it had recovered a significant portion of the funds stolen from Bitfinex in 2016. The officials added that a husband and wife were arrested in connection with the theft.
According to the DoJ, Ilya Lichtenstein and his wife Heather Morgan conspired to launder the funds stolen from the Bitfinex hack. The prosecutors revealed that their arrest had led to the recovery of 94,000 bitcoin worth over $3.6 billion (at $43,600 each).
The report states that the couple was arrested in Manhattan after officials traced the stolen funds through an intricate web of transactions to an account for a cryptocurrency wallet operated by the suspects. 
Officials disclosed that Lichtenstein and Morgan had been slowly laundering the funds, transferring an estimated 25,000 Bitcoins into fiat, gold, and buying NFTs. Bitfinex announced that it would be working with the DOJ to return the stolen bitcoin.
Bitfinex Token Soars Following News 
The value of Unus Sed Leo (LEO), a token launched by Bitfinex, has jumped by more than 60% since the announcement was released. Opening for trade at an initial $4.87, LEO has skyrocketed to a new all time high of $8.04.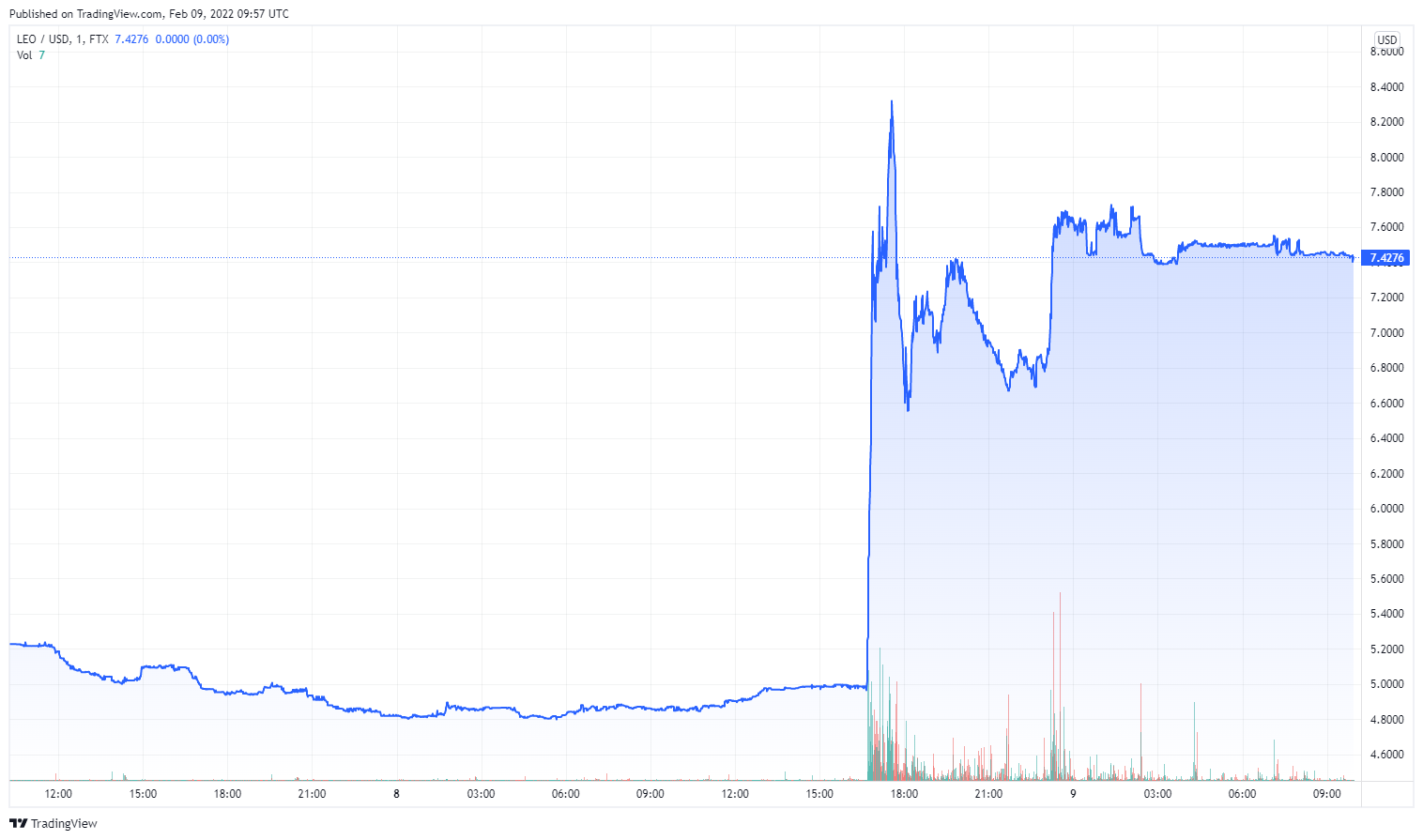 The 48 hour price chart for Unus Sed Leo (LEO). Source: Tradingview
Bitfinex has promised to burn an amount equal to 80% of recovered funds in order to repurchase and burn outstanding LEO tokens within 18 months of the recovery.
After almost six years, victims of the Bitfinex hack could perhaps expect to see their bitcoin returned, the value of which has risen almost 70x since the incident.