Since its launch, Ethereum has been the favorite of developers because of its combination of features, which serves as a base layer for the creation of smart contracts and decentralized applications (dApps).
The utility of the Ethereum blockchain has seen developers create over 3,000 dApps and 530 DeFi protocols. Vitalik Buterin, the founder of Ethereum, believes that as Ethereum's adoption increases, the project could become a world computer.
Ethereum's Network Activity Explodes
The growing number of online applications on the Ethereum network has led to a spike in the network's activity. Ethereum has hit a new milestone, gaining 18.36 million active addresses with non-zero balances in 2021. 
In addition, the number of addresses holding at least 0.1 ETH on February 14 hit an all-time high of 6,895,205. The total number of addresses holding Ethereum now stands at 70.4 million.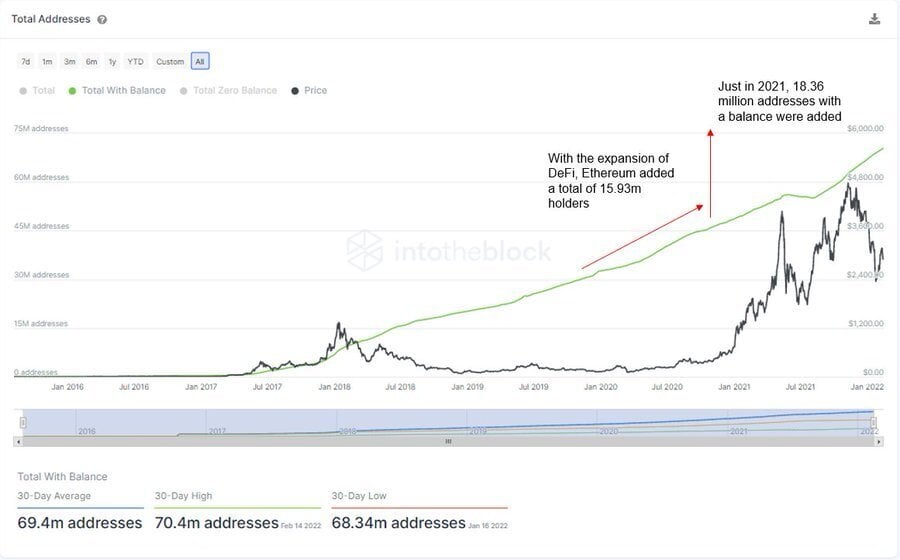 Since the EIP 1559 upgrade was activated in the London hardfork, there has been a progressive decline in the average gas fees for Ethereum transactions. Gas fees are now 71% cheaper than they were in January.
In an interview with Defiant, Buterin said that Ethereum's transition to proof-of-stake (PoS) and upcoming updates could drive greater adoption and sustainability on the blockchain.
While Ethereum activity has hit a new high, the number of ETH whale addresses has hit a 4-year low of 6,226, with a decline in the number of active addresses. 
These progressive developments in the network have caused Buterin to assert that Ethereum could soon become mainstream and the most secure, flexible base layer for online applications, making it the world computer.